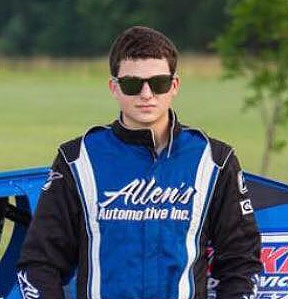 Age: 26 years old
Hometown: Chanute, KS
Car No.: 98K
Team: Club 98
Occupation: Salesmen- Allen's Automotive Inc.
Height/Weight: 170 lb. 5' 8
Hobbies: Basketball, Golf
Heroes: Wendell Allen, Van Gemmill
Personal Vehicle: Club 98 race cars
Favorite Food: Steak and Crab Legs
Favorite Drink: Body Armor
Favorite Color: Blue
Favorite Sports Teams: Kansas Jayhawks, Kansas City Royals, Kansas City Chiefs, Wichita Thunder
Favorite TV Shows: Justified
Favorite Movies: Rush
Favorite Drivers: Clint Bowyer
Favorite Music: Country, Rap

About Kenton:
Born and raised in Canute, Kansas Kenton grew up traveling to dirt races across the country with his Father (John Allen). Kenton soon learned a lot about dirt track racing from his father and grandfather (Wendell Allen). Early in his teenage years he became an important part of the crew for his father's race team and racing parts business. In 2015 he started racing part time in the USRA B-Modified division. He started racing a more full time schedule in 2017 and will continue to do so in 2018.
2018-Kenton gets his first A feature win at Caney Valley Speedway!
2019-Kenton will be driving a car built by his dad, John Allen!
Career Highlights:
2015- 9th Humboldt Track Points
2017- 5th Humboldt Track Points
2017- 27th NASCAR Division 2
2018- 9th Humboldt Track Points
2018- 25th NASCAR Division 2
2019-4th Humboldt Track Points
2020- 81 Speedway Track Champion
2020- 17th USRA B-modified National Points
3 Career Feature Win
Career Goals:
I just want to be able to race and run my own business.